McKay Creek Elementary Learning Fun in December
Learning Fun in December at McKay Creek Elementary
During December, several McKay students' classes embarked on fun learning units and projects to celebrate the holiday season and winter.
The two 1st Grade classes worked on creating a calendar to give to their parents – each calendar featured 12 pieces of amazing art (one for each month) created by the individual student. Wendy Phillips, 1st Grade Teacher, said, "Our Christmas Calendar project is 12 months of amazing art wrapped into one special gift. This has been a traditional project at McKay for many years, and it's been great this year to continue this tradition."
First graders also began their Reindeer Unit. Phillips said some of the interesting things they have learned together are:
Caribou means "snow shoveler"
Arctic Tundra has permafrost; the climate is never warm enough to melt the frozen ground
Moss, lichen, shrubs, and short grasses grow in the tundra
One animal adaptation there is hollow fur to help them float
Animals have huge nostrils to warm air before breathing
Cow, bull, and calf communicate through snorts and grunts
Second graders in Shelby Spriet's classroom were busy with their "Around the World" unit during December. Spriet said the class "flew" to Australia, England, France, China, and Israel. They also will be going to Germany and Russia.
To make the world traveler experience as authentic as possible, Spriet dresses up as a pilot, and the class watches a video of an airplane taking off. Then they go to "baggage claim" each day to grab their "luggage," and they have passports where students place country stamps each time they travel to a new country.
"The kids love it! When we go to each country, we learn about the holidays they celebrate this time of year and how they celebrate. We learn the foods they eat and the traditions they have," Spriet said.
McKay's two fifth-grade classes, taught by Linzie Noble and Cathy Walters, got into the holiday spirit by creating multimedia pictures of tree boughs with watercolor ornaments.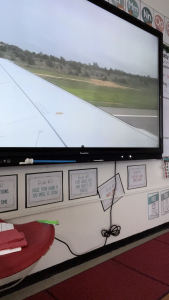 https://pendleton.k12.or.us/wp-content/uploads/2023/01/Spriet-4-scaled.jpg
2560
1920
rthornburg
https://pendleton.k12.or.us/wp-content/uploads/2020/03/pendleton-school-district.png
rthornburg
2023-01-05 15:36:56
2023-01-05 15:39:28
McKay Creek Elementary Learning Fun in December