August 29, 2023
When students at Washington Elementary School enter the building for their first day of school this week, they will notice a large, new painting hanging in the foyer of their school. The acrylic painting entitled "Generations Shall Never Fade" was created by EllaMae Looney, an artist who lives in Mission. Looney, of the Yakama Nation, attended Washington Elementary from kindergarten through fifth grade and graduated from Nixyaawii Community School in 2018.
The large, colorful painting has deep meaning for Looney. It shows a woman in the center, who Looney said symbolizes missing and murdered Indigenous women. A young girl and boy on either side of the woman represent Indigenous children who were taken away from their families, put into residential schools, and stripped of their cultural identity.
Looney said her time as a student at Washington is full of good memories of awesome teachers and being very excited to put on regalia during the school's powwow in Native American Heritage Month to show her friends how proud she was of her culture. "I want Indigenous kids and all kids to be proud of who they are. When they see the painting, I want them to see that a Washington student did that, and they can do good things in their life, too," Looney said.
Stacey Jacobs, Tribal Attendance Family Advocate for the Pendleton School District, is the person who commissioned Looney to create the painting. Funds came from the district's TAPP (Tribal Attendance Promising Practices) grant. Jacobs is thrilled that a former Wildcat created the painting and that the Looney family, who have been a large part of Washington Elementary for a long time, have a forever connection to the school. "I don't expect our students to get the entire meaning of the painting, but it's a powerful reminder of difficult challenges that Indigenous people historically endured and still face. I hope students can look to the painting by a former student creating art now and think about what they can become," Jacobs said.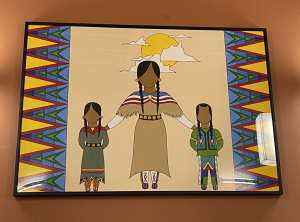 https://pendleton.k12.or.us/wp-content/uploads/2023/08/EllaMae-Looney.jpg
1150
1410
rthornburg
https://pendleton.k12.or.us/wp-content/uploads/2020/03/pendleton-school-district.png
rthornburg
2023-08-29 16:32:34
2023-08-29 16:33:06
Washington Elementary – New Painting by Native American Artist